2020 Jeep Gladiator Dimensions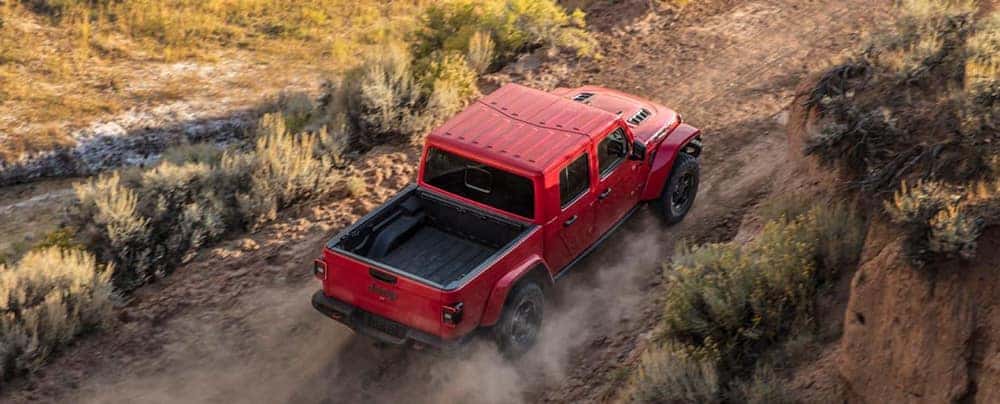 The all-new 2020 Jeep Gladiator ranks among the most heavily anticipated trucks in the last decade, so it's no wonder that Jeep and pickup enthusiasts alike have been clamoring for more info. Our team at Clear Lake Chrysler Dodge Jeep Ram FIAT near Clear Lake have been getting lots of inquiries about 2020 Jeep Gladiator dimensions, so we've taken time to break them down for you! Learn more about Jeep Gladiator dimensions with help from our Houston-area Jeep dealership.
2020 Jeep Gladiator: Interior Dimensions
Whether you're looking for a family-friendly cruiser, or a truck for your weekend adventures, the Jeep Gladiator offers a comfortable and spacious interior for growing families and active professionals alike. The Jeep Gladiator offers the space you need to make your everyday drives around Deer Park comfortable and convenient. 2020 Jeep Gladiator interior dimensions and specs are as follows:
Jeep Gladiator Seating Capacity: Up to 5
Jeep Gladiator Front Headroom: 42.8 inches
Jeep Gladiator Front Legroom: 41.2 inches
Jeep Gladiator Rear Headroom: 42.8 inches
Jeep Gladiator Rear Legroom: 38.3 inches
Jeep Gladiator Passenger Volume: 104 cubic feet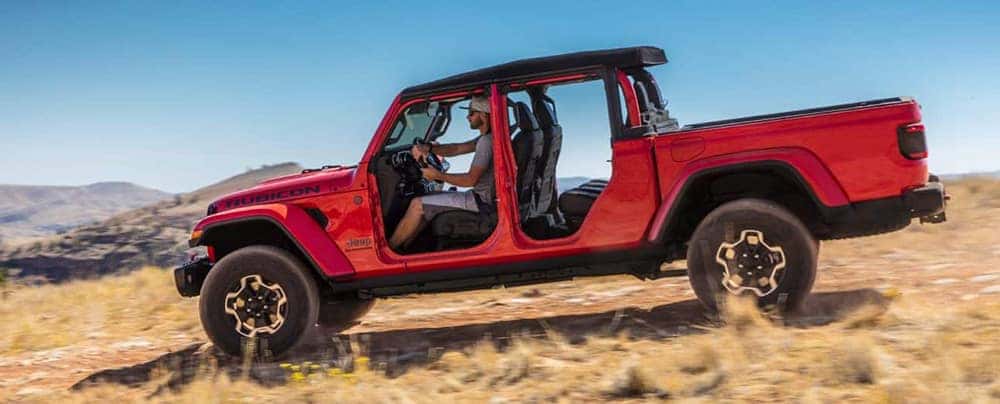 2020 Jeep Gladiator: Exterior Dimensions
Many homeowners are curious if the Jeep Gladiator can fit in their garage, as many trucks are too long. Luckily, the 2020 Jeep Gladiator dimensions qualify it as midsize truck, making it more maneuverable than most half-ton trucks. Take a look at Jeep Gladiator length, bed size, wheelbase, and more below to see if you can fit it in your life:
Jeep Gladiator Length: 218.1 inches
Jeep Gladiator Bed Size: 60 inches
Jeep Gladiator Wheelbase: 137.3 inches
Jeep Gladiator Width: 73.8 inches
Jeep Gladiator Height: 73.1 inches
Test Drive a 2020 Jeep Gladiator in Webster Today!
Now that you know all about 2020 Jeep Gladiator specs, it's time to get behind the wheel! As you know, the best way to see if a new Jeep is right for you is by taking the helm yourself. To schedule a test drive, simply contact us online after you find your favorite Gladiator in our online inventory.
Vehicles You Might Like
Latest on the 2020 Jeep Gladiator
September 16, 2019

The 2020 Jeep Gladiator is among the most heavily anticipated pickups of the new year, and thusly, our customers from Clear Lake to Deer Park have been asking eagerly about its engine specs. If you're curious about available Jeep Gladiator engine options and specs, you've come to the right place! Find out if the 2020 Jeep Gladiator…

July 19, 2019

The all-new 2020 Jeep Gladiator ranks among the most heavily anticipated trucks in the last decade, so it's no wonder that Jeep and pickup enthusiasts alike have been clamoring for more info. Our team at Clear Lake Chrysler Dodge Jeep Ram FIAT near Clear Lake have been getting lots of inquiries about 2020 Jeep Gladiator dimensions, so we've taken time to break…

June 20, 2019

Jeep loyalists from Clear Lake to Deer Park and beyond have been clamoring for info on the 2020 Jeep Gladiator. One of the questions we are asked most frequently is, "How much is the Jeep Gladiator?" Now that the 2020 Gladiator is ready to order at our Jeep dealership in Webster, it's time to learn more about…